Katharina's Bookshelf
Gifts for Holly
short story anthology
pub. Dec. 2013
buy at Amazon or any other retailer
Nine characters named Holly.
Nine stories.
Not two of them alike…
… but many with dragons.
Eight authors created these stories as a gift to their writing mentor, Holly Lisle. You can go to the above link and see a quick description for each story. The description of Peter's short story is:
The Christmas Dragon by Katharina Gerlach
Holly's Gran is obsessed with dragons. What if a drawing isn't enough?
Parlan's Children
Young Adult Fantasy
published May 2013
written 2009
buy at Amazon
Description
Fresh from the academy, ambitious Galaktipol officer Vera Staven has been transferred to the only human settlement on the ice planet Paralan. Aside from smuggling, crimes are rare and the suicide rate is high. But something at the latest find nags at Vera, although no clues indicate it's anything but a suicide.
When native Galaktipol officer Joloran Durim Brunàhgan meets the mother of his wee-ones for the yearly egg-opening feast, he doesn't know he's facing the worst case of his career. The next morning, fifteen Paralan wee-ones went missing, girls only. A catastrophe for the natives. Joloran hurls himself into the investigation, but he can't get the murder of two wee-ones out of his mind that he couldn't solve many years ago.
Paralan and humans harbor prejudices, making it hard for Joloran to follow all clues. Against his will, his superior requests support from the humans. POK Vera Staven is assigned to him, the only woman in the human Galaktipol station on Paralan. And time is running out. With every passing day, the probability of finding the wee-ones alive shrinks. But only as a team, Joloran and Vera might have a chance. Can they overcome their prejudices and cooperate, or will they find these children disemboweled in the icy wilderness of the planet's far side too?
Comment by Author
The science in this book is mostly biology since I studied forestry not physics (do I hear you sigh with relief?). I tried to weave it in as unobtrusively as possible, but one or two explanations were needed. Please forgive me. Since this book can be considered "soft" SciFi, I hope that many Fantasy-lovers will enjoy it too.
Scotland's Guardians
Young Adult Fantasy
published Jan. 2013
written 2007
buy at Amazon
Description
Since Bryanna grows up in Scotland, she is familiar with Hobgoblins, Selkies and Kelpies from the tales of her mother country. But she is very surprised when she starts seeing these creatures one day. Is she hallucinating? Before she can ask her father's advice, he is kidnapped by a woman whose scent seems awfully familiar. Instead of calling the police, Bryanna follows the kidnapper and lands smack-dab in the middle of the adventure of her life. It's just as well she knows the old legends and myths well enough. The world she lands in is murderously dangerous. And even if she survives the journey, she is fated to kill her father.
Comment by Author
I got the idea to this story during one of my numerous visits in Scotland. Beside the unbelievably beautiful nature, this country has much to offer particularly one thing: the supernatural. Every region has its own mythical creature and every Scotsman knows at least one haunted house or monster of a loch. No matter if on the mountains, at the coast or in the valleys, there are as many stories about Brownies, Boobries and Kelpies as there are grains of sand by the sea. Fascinated, I decided to put at least some of these creatures into a novel but it only took form after a woman appeared in my mind whose eyes mirrored the Scottish moors and not the garden she looked at.
Ann Angel's Freedom (Waldman Saga 1)
Young Adult historical romance
224 pages incl. 5 with b/w graphics
second edition Sept. 2007
written November 2000-2005
buy at Amazon.com
Praise by US-author Holly Lisle
Ann Angel's Freedom is an amazing, beautifully researched, well-written tale of a world and a time far different from our own, but one that still resonates with the struggles we all face today. I found myself suffering with Ann and those she loved, hoping for her, and in the end cheering with her. It's a wonderful story, made more wonderful because it's true.
Description
At the end of the 18th century, living on a rich farm like the one of the Waldmann family meant lots of hard work and little time for privacy. Still, Ann Angel Waldmann is happy. However, everything changes when her father decides to buy their freedom. Will it be a change for the better?.
Comment by Author
This novel is based on the true history of the Waldmann family. It covers the time from 1799 to 1803 in the area of Osnabrück, a time of world-wide changes. Beside the everyday worries about friends and families, people of the rural community have to cope with the results of the first and second war against Napoleon. Even if they aren't involved yet, war casts its shadow over the peaceful village.
Victor's Rage (Waldman Saga 2)
Young Adult historical romance
incl. graphics
published Dec. 2012
written November 2010
buy at Amazon.com
Description
Rieke should be happy. Her family is prosperous, and Willem, the man she loves, wants to marry her and emigrate to America with her. But in 1848 Germany, she doesn't determine her own happiness, and her mother favors a different candidate for marriage. Of course, she too has her daughter's happiness on her mind since Willem is not the heir of his farm, and his chances to support a family are slim.
But the lovers don't give up easily. Rieke manages to convince her mother to grant them a period of grace. Willem, who always wanted to leave, sets out to become financially independent, but gets involved in the German Revolution instead. While he's away, Rieke looks for an affordable but fruitful farm and discovers her late father's secrets. Will the two have to emigrate to America after all?
Comment by Author
Again, the sequel to Ann Angel's Freedom is based on facts from the Waldmann family. This book takes the readers into the German Revolution from 1848. Several of the revolution's leaders later immigrated to America. Over there, they were called the 48-ers.
Flesh and Blood
Adult Horror
published October 2012
first printing 2009
written 2008
buy at Smashwords
buy at Amazon
Description
The Angel
Dying Van Cleft clings to his life with all the strength cancer has left him. He knows how to cheat death. But will his craving for an angel's body truly redeem him?
Wedding Nights
Child-vampire Constance hates hunting, but she's starving. However, her latest prey is more dangerous that she anticipated, and long suppressed memories awaken. Struggling against a fate worse than death, she fights for her un-death.
Comment by Author
Normally, I'm writing stories for teens and children, but these stories are neither suitable for my usual audience nor for tender-hearted people. They are exclusively for fans of horror. I based the second story on a nightmare that cost me several good night's sleep. So, please, do not hold me accountable if the stories get under your skin. You've been warned. These two stories have been published in Germany before (yes, in German). They found many eager readers but the collections they appeared in are no longer available. The author hoped that with the rise of eBooks, they might find more readers who will appreciate them.
Amadi, the Phoenix, the Sphinx, and the Djinn
Young Adult fantasy
published May 2012
revised March 2010
written November 2009
buy at Smashwords
buy at Amazon.com
Description
Amadi hates being a girl. She manages to become apprenticed to a thief where she lives as a boy. But when her Helping Hand is murdered, her oath of revenge lands her smack dab in the path of an assassin hired to kill her and a jackal-headed god with the same purpose. Now, her only defense is the threadbare tunic of a young man and her training as a thief.
Comment by Author
Amadi's story started out as a short story (voting and illegal copies are still floating around the Internet). Most people who downloaded it (several thousand) said they liked it but it was too short. Thus, the novel was born. It is set in a world that resembles that from "The Arabian Nights" but is entirely independent from those tales.
Urchin King
Young Adult historical fantasy
published 4th of October 2011
written during NaNoWriMo 2008
buy at Smashwords
buy at Amazon
Description
For fourteen years, street-urchin Paul's miserable existence has kept him safe from an ancient law that sentences all second-born twins to death. When he learns he is the younger twin of the mentally handicapped Crown Prince who's in danger of being killed for his disability, he agrees to play the role of the miraculously healed royal heir. Paul struggles to learn how to act like a born ruler, but finds that his greatest skill, getting by unnoticed, is now his greatest liability. He knows if he is discovered, he will be executed like all second-born twins.
Awards
This novel was Semi-Finalist in Kindle Book Review's "Best Indie Books 2012" Competition.
This novel was shortlisted 2010 in the category "Speculative Fiction" (the only non-Colorado finalist!) under its former title "Thicker Than Water" to the Rocky Mountain Fiction Writer's Colorado Gold Competition.
Comment by Author
No, I didn't realize that this story's beginning resembles "The Prince and The Pauper" which I read ages ago in school. I only noticed when someone pointed it out to me. But the resemblance of the ragamuffin turned king is vague at best. In "Urchin King", the main character Paul, a second born twin, shouldn't exist due to a brutal law. And the story has got magic in it, a sorcerer with a vengeance, and an unpredictable evil spirit. To add authenticity, I included many details about everyday life in Europe during the Middle Ages. I hope you will like it.
Campaigner Challenges 2011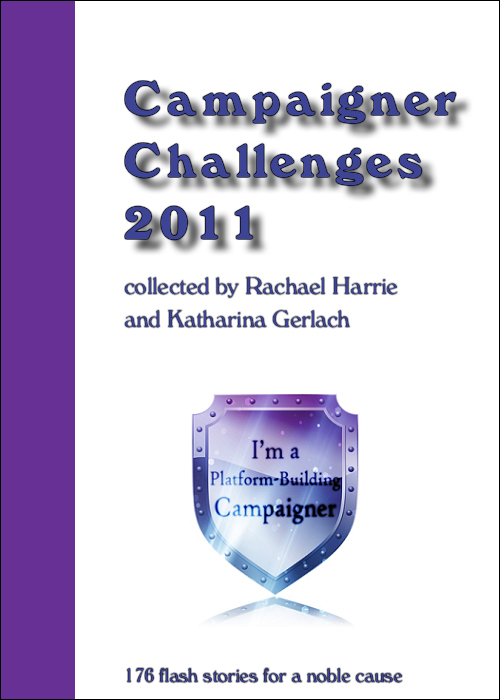 Flash Fiction Anthology
published 12th of November 2011
written during Rachael Harrie's "Blog Building Campaign 2011"
buy eBook at Smashwords
buy eBook at Amazon
buy printed book at Amazon
Description
What is an imago? Can you imagine a "synbatec"? Do you know how many different ideas are sparked by a cliché phrase? Up to 400 participants took up the challenges Rachel Harrie thought up for her "Platform Building Campaign". 176 of these flash stories are collected in this anthology in memoriam of Harry Moseley.
Comment by Author
All proceeds of this book go to Harry Moseley's charity "Help Harry Help Others". Despite his brain tumor, Harry single-handedly raised 85,000GBP for Cancer Research (and nearly half a million with the help of his friends) before he died October 8th, aged eleven. Help us keep his memory alive and get a copy of the book.