Category Archives:
Genre – SciFi Stories
Science Fiction Novels, Novellas, Novelettes and Short Stories for all ages
I was challenged to write a short story from the point of view (POV) of a non-human protagonist. Needle-Green was the result. A couple of humans make a very minor appearance in the story, but the POV character is a mystical version of a redwood sapling. I fell in love with Needle-Green. I hope you will too!
NEEDLE-GREEN

by Debbie Mumford
Audience: Fantasy | General Audience | Short Story
Needle-Green, a redwood dryad who has made the leap from growing sprout to intelligent being, embarks on a journey to find the perfect place to put down permanent roots. Preferably far from the reach of interfering humans. Does such a sheltered refuge exist? Needle-Green hopes to discover that it does before s/he becomes too tall to walk the earth in anonymity.
|
Buy Now: Amazon | Apple | Barnes & Noble | Kobo | Smashwords
My alter-ego has a new story out! This one plays in Anthea Sharp's Feyland universe. If you're not familiar with Feyland, you really should check it out. I'm definitely a fan (which is why I wrote this story.) Find information here.
ON GUARD

by Deb Logan
Audience: Fantasy | Teen | Short Story
A short tale set in Anthea Sharp's Feyland universe.
Wallace, a fierce Norwegian Forest cat, has guarded the boy since he was an infant. Despite advancing age, Wallace isn't about to shirk his duty now that the boy is old enough to play a dangerous game. Wallace doesn't understand his boy's fascination with Feyland, but he knows a threat when he sees one.
Buy Now: Amazon | Apple | Barnes & Noble | Kobo | Smashwords
Speaking of playing in other people's universes … this is my first ever military science fiction space opera … and it's written in Nick Webb's Legacy Fleet universe. I had great fun putting this together 😀
THE WARBIRDS OF ABSAROKA

by Debbie Mumford
Audience: Military Space Opera | General Audience | Short Story
Brenna Standing Bear has been given an impossible task by her dying grandfather: convince Absaroka's Planetary Council to build a fleet to defend against the Swarm. The problem? The council believes the Swarm was defeated sixty-eight years ago. Why should they expend precious resources to defend against a non-existent threat?
Exclusively Available from: Amazon

I'm thrilled to announce that I have a short story in this anthology!
Edited by the incomparable Kristine Kathryn Rusch, this volume focuses on historical crime fiction–specifically, stories about crimes that are no longer against the law.
Writing "Sisters in Suffrage" was a departure for me since I don't write mysteries or crime fiction. My usual genres are all speculative in nature, so I was stymied about how to approach this story. When I realized that the crime didn't have to be solved, that I could simply tell a story about something that horrified me, I was on my way.
I had written a blog post several years ago encouraging women voters to exercise the rights that our foremothers suffered to earn for us. I knew when I began my research that my right to vote hadn't come freely, but I hadn't realized the extent to which "suffrage" and "suffering" had been related. When the memory of my research surfaced, "Sisters in Suffrage" was born.
I hope readers will enjoy this anthology, but even more I hope the stories will make people think about what's legal, what isn't…and why.
And in other news…
My short story "Astromancer" is now live on Amazon and will be coming soon to Barnes & Noble, Kobo, and all the Smashwords affiliates!
Apprentice Alchemist Wyot is an astrologer of the third rank. He dreams of becoming an astromancer, one of the elite few who move starships between the known planets, but knows he lacks the innate magical talent required to fulfill his lofty ambition. When the Thrice Great commands his presence, Wyot has no idea what to expect from the leader of the legendary Emerald Enclave.
It's been a very good week!
Regular readers of this site will recall TC Southwell and Vanessa Finaughty, the South African author-duo who write across the fantasy and sci-fi divide. Today we're proud to alert our readers that their joint offering Doorway to Destiny is now available. I hope you will take the time to explore the fine work of these two authors, including their latest.
Anthology Description:
This collection of eleven fantasy and science fiction novels and two anthologies will transport you to strange and exciting worlds to share in the tragedies and triumphs of complex yet endearing heroes and heroines. Discover the gripping works of authors TC Southwell and Vanessa Finaughty and be swept away by magical adventures, epic battles and futuristic voyages to unknown universes. Learn how a vengeful assassin reshapes the fate of three kingdoms and share in a quest to discover the origins of mankind, then follow the tale of a young queen's fight to be free with the aid of a combat cyborg. Two short story anthologies spice up the fare with dragons, sorcerers and magic galore, and a child of another god strives to save his world from mankind's ravages. When a mortal dark god treads a tragic path as he rises to destroy the Overworld, a brave young girl risks her life to try to change his savage ways. Each hero and heroine takes a definitive step through a doorway to destiny as he or she seeks to right wrongs and save worlds.
Doorway to Destiny links
Smashwords
iBooks
Barnes & Noble
Goodreads
Price: 99c for a limited time only
About TC Southwell
T. C. Southwell was born in Sri Lanka and moved to the Seychelles when she was a baby. She spent her formative years exploring the islands – mostly alone. Naturally, her imagination flourished and she developed a keen love of other worlds. The family travelled through Europe and Africa and, after the death of her father, settled in South Africa.
T. C. Southwell has written over thirty fantasy and science fiction novels, as well as five screenplays. Her hobbies include motorcycling, horse riding and art, and she is now a full-time writer.
Links
Author website
Author blog
Twitter
Facebook
About Vanessa Finaughty
Vanessa Finaughty is an author of many genres who now focuses on fantasy and science fiction. She's published 15 books, of which 6 are fantasy. Vanessa grew up in Cape Town, South Africa, and still lives there with her husband of fifteen years, her baby daughter and plenty of furry, four-legged 'children'.
Vanessa has always been passionate about books, and knew from a young age that she wanted to write them one day. She loves animals, coffee and the smell of wet grass, and hates liars, sweltering weather and long queues. Her interests include reading, photography, the supernatural, mythology, aliens and outer space, ancient history, life's mysteries and martial arts, of which she has five years' experience.
Links
I thought I'd do a bit of blatant self-promotion this week 😀
Each of my writing personae has a collection of short stories scheduled for release within the next month! Here's what you should be watching for:
Tales of Tomorrow by Debbie Mumford will feature four science fiction stories. From first contact to interstellar travel, these tales will carry you into the great beyond!
Scheduled for an early October release, Deb Logan's Ghosts and Ghoulies, a collection of five haunting tales for younger readers, will be available just in time for Halloween! And a second collection is already in the works for Halloween 2015!
The Independent Bookworm presents "Paralan's Children", yet another book by Katharina Gerlach (correct, that's me). Hopefully, you'll like it. It's available for 99ct as a special introductory price until tomorrow, 23rd of May. Then, the price will go up to $4.99 for good.
Fresh from the academy, ambitious Galaktipol officer Vera Staven has been transferred to the only human settlement on the ice planet Paralan. Aside from smuggling, crimes are rare and the suicide rate is high. But something at the latest find nags at Vera, although no clues indicate it's anything but a suicide.
When native Galaktipol officer Joloran Durim Brunàhgan meets the mother of his wee-ones for the yearly egg-opening feast, he doesn't know he's facing the worst case of his career. The next morning, fifteen Paralan wee-ones went missing, girls only. A catastrophe for the natives. Joloran hurls himself into the investigation, but he can't get the murder of two wee-ones out of his mind that he couldn't solve many years ago.
Paralan and humans harbor prejudices, making it hard for Joloran to follow all clues. Against his will, his superior requests support from the humans. POK Vera Staven is assigned to him, the only woman in the human Galaktipol station on Paralan. And time is running out. With every passing day, the probability of finding the wee-ones alive shrinks. But only as a team, Joloran and Vera might have a chance. Can they overcome their prejudices and cooperate, or will they find these children disemboweled in the icy wilderness of the planet's far side too?
I think maybe we have kids so we can be reminded of that time we forgot, back when we were children- that phase where every answer was followed by another "why"? Our parents all gave up, just like I did, when it got somewhere around Bill Cosby's immortal question "why is there air?". But just this week, my daughter got on the phone with me- during a rare business trip- all in a lather about an ending she had just seen on the TV, one I knew very well and which doesn't make sense. She's sixteen now, the pace of "why" has settled down to where I almost miss it. I was rather busy, and this was too tough to answer on the phone. But I promised her I'd talk it through when I got back.
Before that happened, I finished the book I was reading on the train. And I answered a question for myself. WHY was I writing?
Not that I've done much recently- things have been quite unsettled but I think the new normal is coming around. And I never stopped feeling the hunger, to get back to this particular story and face its intimidating and alluring heroine again. Once I got started, I never really needed motivation to write- I wasn't asking why in that sense. But I had honestly lost my compass a bit- this priestess, she'll throw you for a loop too! And I'm very thankful I decided to read the book I had with me. There are no accidents…
It's called "Epic" by John Eldredge and I would recommend it to anyone who wants to write, especially any kind of fiction. Fair warning- the author is a religious man and his thesis is rather startling. I'd be sorry if that drove you off by itself- the book is very accessible, and it flies right by even for a moderate-pace reader like myself. But I'll give you a couple of points from it by way of explanation.
John wasn't asking why we write, but why we read, or watch, or listen to tales ourselves. His answer was alarmingly simple. We go after these tales because at their heart ALL good stories are showing us elements of OUR story. And our story, of course, is a part of THE story: this is where he gets more spiritual, but as a Catholic that doesn't bother me a bit.
We feel the thrill of the heroism, the struggle, the romance in tales- and we recognize, deep down, that somewhere something has gone seriously wrong in the tale we're living through. Who can fail to notice how much suffering, frustration, and yeah, betrayal exists? For us and for the world, I mean. We work for the happy ending- yeah, the happily-ever-after ending, any good person does that. We often don't feel like it, but our lives are epic! That's a meaningful word, of course to me- in epic fantasy the likes of which I'm trying to chronicle, things come around, the story means something, lots is at stake and needs to be saved.
It thrilled me and brought me back to really focus on my current tale. THAT's why I'm writing- because it helps me to chronicle the specific aspects of my world, the characters I've come to know, gives me clues about how to bring my own epic life to a happy conclusion.
And we all do this for each other. Probably Eldredge's best quote is the way we likely feel, at least sometimes, about the story we are starring in:
For most of us, life feels like a movie we've arrived at forty-five minutes late. Something important seems to be going on… maybe.
But we're lost, or behind the plot so often, and here's the key of all human existence. (Pretty cool claim, huh? When you write epic fantasy you get to go after stuff like this) We cannot find our place in our story- in THE story- by ourselves. So we turn to each other and ask "what's happened?" We watch romantic TV series, we can't get enough super-hero movies, we check out the horror titles in the bookstore; and we listen to that crazy uncle who's never told the truth in his life but man, can he spin a yarn after dinner.
I need an answer; so I read and I listen, and most of all these past five years, I write. And I think it's a big part of why you read or write too- I can't wait to see your next part, because when I enjoy it, you're helping me to get "there" in my own epic tale.
Don't think so? Hey, free country- but I really recommend this book. It restored my spirits, and that has to be good for me. One more quote from Eldredge- I don't think anyone can deny that we devour tales (and with fiction tales especially, that begs the question why), or that we have this haunted feeling of being lost. Where else in the alleged-real world can we find THIS kind of answer? Eldredge quoted a fellow named Neil Postman:
In the end, science does not provide the answers most of us require. Its story of our origin and our end is, to say the least, unsatisfactory. To the question, "How did it all begin?", science answers, "Probably by an accident". To the question, "How will it all end?", science answers, "Probably by an accident".  And to many people, the accidental life is not worth living.
Like I said, there are no accidents. It may not matter whether there is a guiding mind behind the cosmos of the alleged-real world. Maybe I'm mistaken, maybe Eldredge is. But that point about the scientific view is dead-on, to tempt the pun. And to not wander around feeling lost on the plot, to live a life with some purpose, is surely better. I've remembered that recently- and I will certainly begin to write again soon.
After all- my life is EPIC.
How about you?
P.S.: What ending did Genna want to know "why" about? The ending of Monty Python and the Holy Grail which her mother and I had finally allowed her to see. We talked about parody and satire, and I said things a bit like I have here. Maybe straight-out medieval virtues don't exactly "fit" in our story today- Arthur and his knights would probably have to go to jail. But if that's true, why did we laugh so hard? What was so TRUE about courage, and faith, and even chastity that we can chuckle when it's made fun of? And more importantly, what ending are we replacing the quest for the Grail with? That might be more analysis than the troupe figured it could stand- the Muppet-master Jim Henson once said of his comedy sketches "When you're stuck for an ending, you can always blow something up, or if that doesn't work, throw penguins in the air". Sometimes the ending is senseless, but it doesn't make the story worthless- it just means it isn't truly over yet. If you're still alive, you know what that feels like.
Ever since the eBook revolution started, reviewers complained about the lack of quality of self-published stories. They claim that too many of the available eBooks are badly edited, have confusing stories, or are plain boring. They are partly correct, but there are also wonderful new authors that deserve to be noticed (like my colleagues here on the Independent Bookworm). Therefore, I will present a new Indie author once a month; one that is worth being read.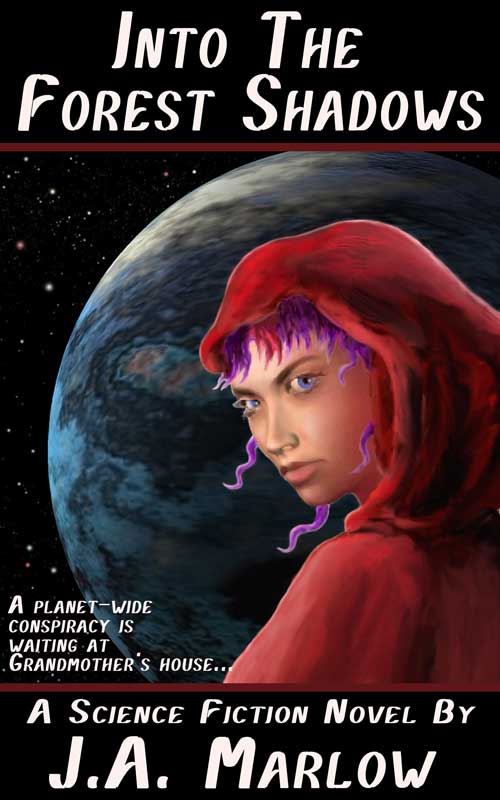 The first new author I discovered was J.A. Marlowe. I have always been a fan of soft SciFi (that means accurate science but not too technical) but often found the books that are available lacking in good characterizations or interesting plots. When I started reading J.A. Marlow, I was pleasantly surprised. Her stories are well thought out with rounded characters and interesting settings. I fell in love with "Into the Forest Shadows", a SciFi Little Red Riding Hood retelling, and bought every one of her books the day it comes out from there on. So should you. They are so worth it.
J.A. Marlow writes a blog about independent publishing. Her books can be found at Smashwords, Amazon, Barnes and Nobles, and on her publishing Platform "Star Catcher Publishing".
Now, let's hear what Jean has to say for herself. Here are some questions, she answered for me.
How did you get started? Was it a childhood dream?
I've loved reading and the telling of stories words enables since before I could read. My parents instilled the love of books from day one. This love grew when I learned how to read and write myself. I still remember reading Dick and Jane and wondering how this person got published. I could do better than that!  So, I went home and did! With this also came the dream of some day having my own stories published for someone else to read.
Why are you focusing on Science Fiction?
While I love reading many genres, my favorite to write is Science Fiction. I love the sense of wonder and adventure the genre affords. In science fiction, one can visit entirely new worlds, solar systems, galaxies, and even creatures. The possibilities are endless. Combine that with a childhood fantasy of being an astronaut, and I was pretty much captured in the genre as a writer.
What formats do you offer your customers (eBook, POD)?
Currently my work is available only in eBook, but this will be changing in 2012. I believe in giving the reader choices. If a reader wants an eBook then I want to provide it for them. The same with paper books. Unfortunately, 2011 had several big hiccups in the personal life which meant I wasn't able to start the POD process. This will be fixed for 2012!
What's your greatest obstacle in writing?
The biggest obstacles is health. I have a fatigue problem that limits the amount of energy I have in a day. This affects my writing life quite a bit, and have written articles about it in the free emagazine "Vision: A Resource For Writers." I have to conserve energy and approach my writing in an efficient and organize way to compensate. Even so, there are some days where I just don't have the energy write.
Who is your favorite Indie author?
This one is hard because being able to easily find and read Indie authors is such a new phenomenon. The ones I've enjoyed so far are Imogene Rose, Kris Kathryn Rusch, and Bob Mayer.
Who is your favorite traditionally published author?
Anne McCaffrey. I'm still sad that we just recently lost this legend of science fiction and fantasy. Her Pern series helped bring my writing to a whole new level as a teenager. I used to study passages to see how she put them together.
Tips for other Indies?
When it comes down to it, it's all about the storytelling. Keep writing, keep learning, keep moving forward, tell good stories. Do not let any other writing or publishing task derail you from producing new work. Writing the new stories is where you will learn the most and where you will practice and apply the craft of storytelling.
I do this myself. Even while revising, I make sure I keep up a minimum of new words in a week. As a result, my writing has come a long way even in this past year.
When it comes to the business of Indie Publishing, backlist is king and queen. Don't count on hitting the lottery with only one or two titles. It's wonderful if it happens, but don't count on it as it happens rarely. Publish new material and build the backlist. With each title, you increase the odds of your work finding readers. If one title gains attention, it will pull up the rest of your backlist with it.
Thank you for the questions. This was fun!
Thank you Jean. It was fun for me too.