Monthly Archives:
December 2011
Not that I love opening with a quote by Adolph Hitler: but then again, when the subject is something that makes you craven, it's just as well I don't admire the author either.
"On land I am a hero, but on water I am a coward." And a good thing for all of us he was! But invading and conquering England would have been good, from Hitler's point of view. Why is it that I can write at such a furious pace and craft a story with all my heart, but when it comes time to submit it my knees turn to… um water?
The deal, in brief, is this. One of those online submission contests has come up- and this time, THIS time of all times, they are looking for just exactly what I write. Adult-aged, epic fantasy/sword-and-sorcery/high fantasy stories. Not another vampire-loves-mortal-chick, not give-me-some-new-setting, not a crime-actually-does-pay morality. They just want stuff exactly like what the Lands of Hope is.
And I might not submit.
I mean I probably will, but right now I'm all-around chicken about it (which is pretty humiliating even if your last name doesn't already mean "rooster" in German. Ask Kat.). I'm too chicken to send in the submission yet (I have until the end of the month) because of course, I'm afraid of being rejected again. I haven't even sent a query letter because I'm sure I'll mess that up. I'm even too scared to share the name of the site, because I'm terrified one of you will submit something (out of your pile of high fantasy reaching to the ceiling), fire it off in about seventeen seconds, and ace me out. Honestly, I'm a mess!
What happened? A week ago I was whacking away on another story, having already finished the tale I should submit to this contest around the start of the month. Dragons, demons, conspiracies, betrayals- everything that makes up the wave of Despair threatens my heroes daily, and I don't so much as flinch. I am observing and taking notes steadily on all the action. I've become brave about my writing, I believe I have a need to do the job and I can feel solid ground under me when I do. But this news comes along and I'm wrecked: haven't written a word in two days. My heroes only want a miracle or two, no problem- me, I need counseling.
For one thing, it's too long. My story, Judgement's Tale, is coming in almost twice as long as they asked for. But then again, this is EPIC fantasy, the ancestral home of too-long books (hence the qualifier 'epic', duh). So if anyone could overlook that… and what else is a query letter for, but to ask? I've sought a break-point in the tale for almost a year now, with no luck. I'll look again, for sure. But it's going to be too long. I could live with that.
But then too, they want the first fifteen pages. Which means they'll read it. Why am I not singing for joy? When I cold-queried thirty-odd agents last year, I had no such assurance. And I've polished the whole thing repeatedly (almost constantly) since then. It's SO much better than it was.
Why not submit it? Why do I even have to talk myself into this?
Because, of course- they could say "no". And I can get all the rah-rah speeches from good friends and fellow-authors I want (I've already had some good ones, thanks). It doesn't matter a straw in the wind. The judges can publish their Top Reasons for Rejection, and I can scour that and be ready. But a rejection is still the same. I put my heart into Judgement's Tale. If it's no good, I'm no good. I would never want to be separated from the depth and the pain of rejection, if the alternative is not to be the chronicler of this tale. Sheesh, maybe that counseling is a good idea after all.
Same for you? No big deal, just dust yourself off, etc? Or is it the depths of the "D" word for a week/month/-ever? I've enjoyed the last year very much, and I realize now it was largely because  I was self-publishing and therefor free from the angst of having to submit my work.I've enjoyed my time on "dry land". But Judgement came to my world across an endless sea, and I need his strength now.
Maybe Christmas is the right time to put together a witty, hope-filled query, say a silent prayer for a miracle, and hit the "Send" button.
And I've decided I will. Soon.
Ever since the eBook revolution started, reviewers complained about the lack of quality of self-published stories. They claim that too many of the available eBooks are badly edited, have confusing stories, or are plain boring. They are partly correct, but there are also wonderful new authors that deserve to be noticed (like my colleagues here on the Independent Bookworm). Therefore, I will present a new Indie author once a month; one that is worth being read.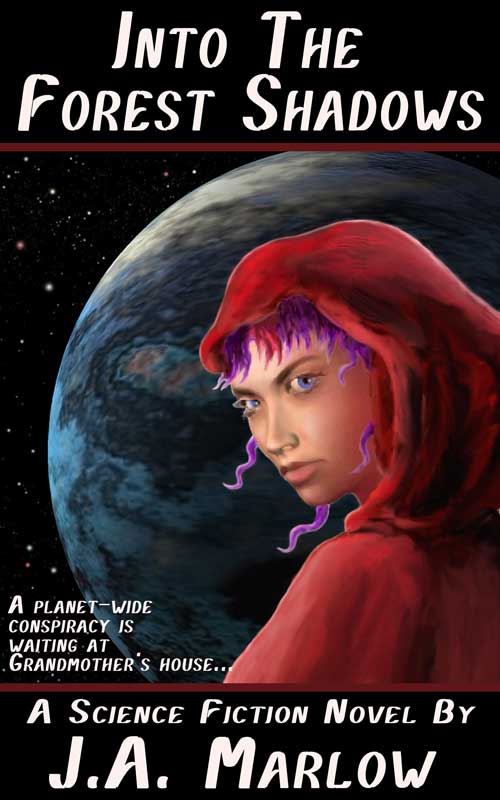 The first new author I discovered was J.A. Marlowe. I have always been a fan of soft SciFi (that means accurate science but not too technical) but often found the books that are available lacking in good characterizations or interesting plots. When I started reading J.A. Marlow, I was pleasantly surprised. Her stories are well thought out with rounded characters and interesting settings. I fell in love with "Into the Forest Shadows", a SciFi Little Red Riding Hood retelling, and bought every one of her books the day it comes out from there on. So should you. They are so worth it.
J.A. Marlow writes a blog about independent publishing. Her books can be found at Smashwords, Amazon, Barnes and Nobles, and on her publishing Platform "Star Catcher Publishing".
Now, let's hear what Jean has to say for herself. Here are some questions, she answered for me.
How did you get started? Was it a childhood dream?
I've loved reading and the telling of stories words enables since before I could read. My parents instilled the love of books from day one. This love grew when I learned how to read and write myself. I still remember reading Dick and Jane and wondering how this person got published. I could do better than that!  So, I went home and did! With this also came the dream of some day having my own stories published for someone else to read.
Why are you focusing on Science Fiction?
While I love reading many genres, my favorite to write is Science Fiction. I love the sense of wonder and adventure the genre affords. In science fiction, one can visit entirely new worlds, solar systems, galaxies, and even creatures. The possibilities are endless. Combine that with a childhood fantasy of being an astronaut, and I was pretty much captured in the genre as a writer.
What formats do you offer your customers (eBook, POD)?
Currently my work is available only in eBook, but this will be changing in 2012. I believe in giving the reader choices. If a reader wants an eBook then I want to provide it for them. The same with paper books. Unfortunately, 2011 had several big hiccups in the personal life which meant I wasn't able to start the POD process. This will be fixed for 2012!
What's your greatest obstacle in writing?
The biggest obstacles is health. I have a fatigue problem that limits the amount of energy I have in a day. This affects my writing life quite a bit, and have written articles about it in the free emagazine "Vision: A Resource For Writers." I have to conserve energy and approach my writing in an efficient and organize way to compensate. Even so, there are some days where I just don't have the energy write.
Who is your favorite Indie author?
This one is hard because being able to easily find and read Indie authors is such a new phenomenon. The ones I've enjoyed so far are Imogene Rose, Kris Kathryn Rusch, and Bob Mayer.
Who is your favorite traditionally published author?
Anne McCaffrey. I'm still sad that we just recently lost this legend of science fiction and fantasy. Her Pern series helped bring my writing to a whole new level as a teenager. I used to study passages to see how she put them together.
Tips for other Indies?
When it comes down to it, it's all about the storytelling. Keep writing, keep learning, keep moving forward, tell good stories. Do not let any other writing or publishing task derail you from producing new work. Writing the new stories is where you will learn the most and where you will practice and apply the craft of storytelling.
I do this myself. Even while revising, I make sure I keep up a minimum of new words in a week. As a result, my writing has come a long way even in this past year.
When it comes to the business of Indie Publishing, backlist is king and queen. Don't count on hitting the lottery with only one or two titles. It's wonderful if it happens, but don't count on it as it happens rarely. Publish new material and build the backlist. With each title, you increase the odds of your work finding readers. If one title gains attention, it will pull up the rest of your backlist with it.
Thank you for the questions. This was fun!
Thank you Jean. It was fun for me too.